Rituraj Properties is a name to reckon if you are looking for a suitable and secure PG accommodation for girls anywhere within or near the most popular destination in Kolkata – Salt Lake. Ours is an establishment that welcomes students and office goers alike. Homely rooms are available for sharing at an affordable rent. Each room is clean, furnished, brightly lit, well-maintained, and comfortable. At Rituraj Properties, we offer you can experience that can be truly defined as a home away from home. Equipped with the best of facilities, the establishment is ideally located and allows easy commuting to other places of Kolkata. So, should you be looking for PG accommodation for girls in Salt Lake, look no further than Rituraj Properties. We'd love to hear from you.

Great Facilities, Easy Rent
– Everything you'd ever expect of a paying guest establishment! Below we have highlighted some of the best amenities at our PG:
24X7 Running Water: 

Our establishment never runs out of water ever. You can avail it anytime of the day or night. Also, keeping the health of the boarders in mind, we have installed water purifier systems so that they receive pure drinking water.
Delicious Food: Contradicting the infamous hostel food, Rituraj Properties offers delicious meals to the occupants prepared with utmost care inside a clean kitchen by great cooks. The food can be customised as well – spicy or without spices if you prefer, or even meals that are recommended by doctors.
AC and Non-AC Rooms: We'd understand if you want to have an AC in your room. This is why we have made available suites that are with and without air conditioners. Choose as per your preference.
Geyser and Refrigerator: The establishment comes with geyser facilities in case you are used to taking hot water baths every day. Also, it has refrigerators to store food and other stuff. In other words, ours is a fully furnished paying guest facility that makes dwelling easy.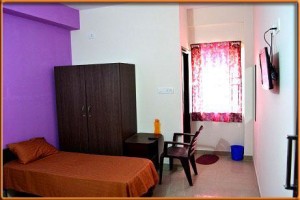 How Is Our PG Different From Other Female Paying Guest Houses in Salt Lake?
Apart from the aforementioned facilities, we are also a vantage point for all those PG dwellers in the city of Kolkata who want to reside in Salt Lake. The advantages of choosing our establishment over other female paying guest houses in Salt Lake are as follows:
Ideal Location: Yes, we are located right in the heart of the city in the most happening employment destination. That makes us a convenient choice. The building is in proximity to all basic amenities, including health centres, banks, ATMs, restaurants, shopping malls, supermarket, grocery stores, theatres, bookstores, and more. Also, it is very near to the reputed academic institutions and offices in the area.
Easy Commutability: Many PG accommodations are well equipped. But, not all can offer easy commutability to the place where you study or work in. This is where ours is an advantage. You can avail all kinds of public transport system right from our very premises.
Security: This is perhaps the most important factor girls look for while renting a paying guest facility. Worry not, because we take the best measures to make sure the occupants are absolutely safe. Trained security guards protect the establishment round the clock.
At Rituraj Properties, the rooms are decent, the food is good, the amenities are plenty, and the rent is just right. What more could you ever ask for? Get in touch with us now to book your stay.