Rituraj Properties is a name that has been for years. In the world full of perilous activities, Rituraj Properties have maintained a clean name and lived with it. For all the girls who have shifted to the city for their professional commitments, we are presenting PG Accommodation for girls in Bhawanipur, with every basic amenity. We have a number of guest houses giving excellent food and security for the girls in Kolkata, and Bhawanipur is one of the renowned places amongst them.
Situated in the heart of South Kolkata, Soham Villa is just beside the Ladies Park in Bhawanipur. The place can be considered as one of the prime locations, down south of the city. Close to the Netaji Bhawan Metro Station, it gives the easiest commute to every girl who comes to live here. With homely rooms, and large beds these rooms are considered as the best fit for a stay. We understand the needs of the girls coming out of the city and leave no stone unturned to fulfil their needs.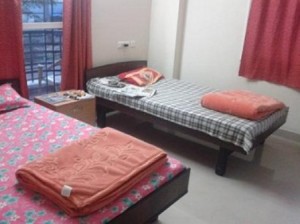 The Facilities That Will Make You Choose Us:
Here are the enlisted facilities that we are offering for a fine stay :
24X7 running water: Many complain about the unavailability of water in their lodging, which becomes their major reason of unsatisfied stay. But, when you choose our women hostel, you would never complain about this facility. There would always be water for your use.
Geyser and Refrigerator: In winters you don't have to shiver, choose our facility and we will provide you with a standard geyser in your washroom. Refrigerator would also be provided, if you wanted to save food, or wanted a glass of cold water after a hectic day.
Excellent food facility: This is something we have boasted all along. Our team of cooks are experienced and makes extremely great meals. Spicy or non-spicy, is just what you have to tell us, and we would prepare accordingly.
AC and Non AC rooms: If you wish you can take the AC rooms for your stay, if you want to have the ultimate comfort, or else, we can also provide you with Non AC rooms.
Communication: We have planned our PG guest houses, in such a way, that it becomes no headache for the girls to travel to and fro from their stay. Nearest metro stations are available and numerous buses would make your journey in this easy and faster.
Why come to Bhawanipur for a stay?
Bhawanipur is the heart of the South Kolkata, and can be easily reached from any location of the city. The place has gained a number of dwellers in the past years because of its availability of everything, EVERYTHING, just at a hand's distance. From cafeteria to great schools, colleges and to companies, Bhawanipur has a lot for you. Do you know that the IT companies are opening their branches down here in the south? For the maximum benefit, you should be looking for a Working Women Hostel in Bhawanipur, so, look no further and come to Rituraj Properties.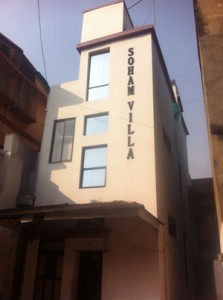 Do you prefer PG accommodation over hostels?
If you do, then here is the best choice for you, the Soham Villa. We present you the entire apartment as the PG accommodation with tight security. We do not interfere into the personal lives of the inmates, and hence, you can live freely under a secured supervision. We also ensure hygiene maintenance by not providing the bed-sheets, comforters, blankets & pillows, unlike the hostel facilities. With sufficient meals, which are again contrary to the structure of hostel life, we provide you with the best of PG accommodation in Bhawanipur, at Soham Villa.
Why should you come to Rituraj Properties in Bhawanipur?
For the ambience
The security that we offer
Food quality
Daily meals
Hygiene maintenance
Great ambience
Individual attention given
Extremely affordable rent
So, what are you waiting for? Contact us today if you are the new girl in the city and looking for a proper homely stay!