Best Paying Guest/ PG Accommodation for Girls in Kolkata
Rituraj Properties takes immense pride in presenting a plethora of PG Accommodations for Girls in Kolkata. Whether you are a student looking for some pliant staying facility or you are office goers who have been recently transferred to this city, we offer you everything you are exactly looking for. Rituraj Paying Guest Accommodation for Girls in Kolkata provides you the experience of a home away from home by providing a clean, comfortable & friendly environment. It is ideally located in four best needed locations like Salt Lake, Rajarhat, Bhawanipur and Ballygunge.
Facilities we offer
Twenty four hours running water: We also provide hostels for working women in Kolkata and believe in the ultimate satisfaction of our customers. We leave no stone unturned to offer them the best staying accommodation. Keeping in mind the health factors of the students as well as the working women, we provide Aquaguard drinking water and also, give enough importance to the fact that they avail the system for twenty four hours.
Good quality food: Now, if you have an inquisitive mind, eager to know about the eating facility, it's worth mentioning that we prepare foods in our own kitchen by highly experienced cooks. No matter whether you prefer spicy foods or you have been advised by your doctor to have non-spicy meals, we take a special care of the entire affair, presenting what exactly you want to have.
Great transportation facility – No staying accommodation can be perfect unless it offers a good transportation system. We take excessive pleasure in stating that all the paying guests we provide have a metro station nearby. As for instance, Soham Villa PG has got Netaji Bhavan metro station at its close proximity and Ballygunj PG has Kalighat and JD Park as its nearest metro stations.
Availability of rooms – Air conditioned and non air conditioned room are available here and you can choose according to your preference.
Refrigerator and geysers in every apartment makes the staying easy and facile.
These are reasons that have made us a prominent paying guest in Kolkata.
Why Choose Us:
Affordable Room Rents – The optimum room charges enables most of the office goers and even students from out the state to select Rituraj Properties for staying. This has made us an eminent Ladies PG in Kolkata.
Utmost Security – Moreover, as we provide working women Hostel in Kolkata our prime concern is the security system. The hostel has a well protected gate and has a number of trained security staffs to maintain the security.
Pleasant Ambiance – The rooms are well maintained and has pleasant ambience to stay.
Comfortable Stay – The bed with mattress, chairs, study tables and other furniture we provide in rooms are of good quality and comfortable.
Located in Heart of the City – One of the most important reasons why we have managed to earn a glut of commendations from different ends in the city is all our offered Paying Guests have got eminent amenities nearby and they are as follows – Asutosh College, Gokhle College, Ballygunj Science College and many more. Shopping complexes, ATMs, Banks, Hospitals, Malls, Restaurants also nearby.
So, before you become more tensed with the thought of an unknown city, give us a quick call at 9830025092 and we will be more than happy to assist you in finding out the best PG for girls in Kolkata.
Photo Gallery of Female Paying Guest Houses in Kolkata
Female Paying Guest Room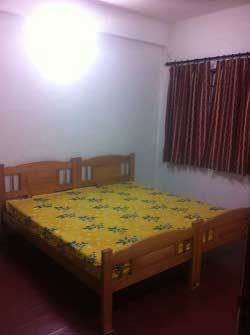 Women PG Room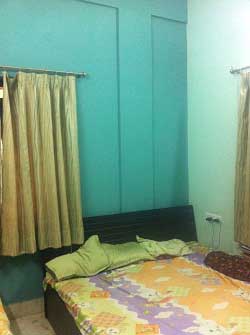 Some Ladies PG Locations in Kolkata:
Soham Villa, Bawanipore, Paddapukur full building available as ladies P.G.
Ballygunje near Gariahat Pantaloons (Total seat capacity: 14)
Rajarhat : near Haldiram VIP and city center Ii (seats available- 22)
Download Rituraj Accommodation Form
For More detailed information Contact us at : info.smgupta@gmail.com, neha_sharmamba@hotmail.com or call us at +91 9830716662, +91 9830025092 and also send your enquiry from our enquiry counter.
Note : To ensure Hygiene & Cleanliness, we DO NOT provide Bed-Sheets, Comforters, Blankets & Pillows.